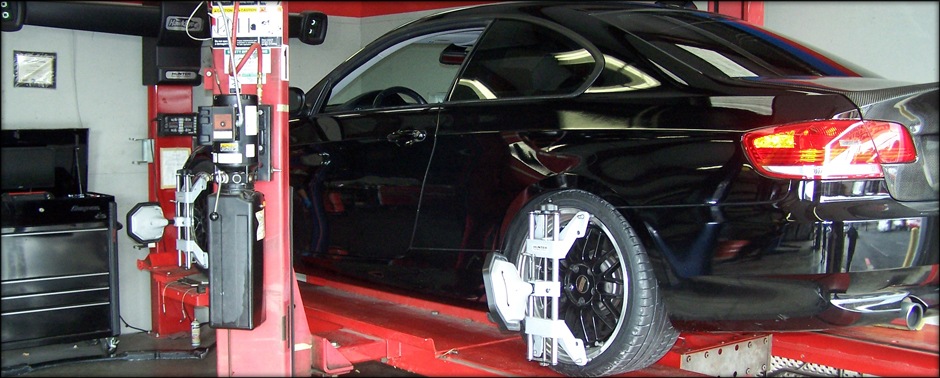 WHEEL BALANCING & ALIGNMENTS
Digital Wheel Alignments
Wheel Alignment is key maintenance in getting the most wear and performance from your tires. Additionally, wheel alignment provides safe, predictable vehicle control as well as a smooth and comfortable ride that's free of pulling or vibration. Today's modern vehicles have suspension systems that require a precise four-wheel alignment, which can only be achieved through a modern alignment system. Front, rear and all wheel drive vehicles need this service equally, especially those with modified and/or lowered suspension systems.
Hunter Engineering Company is a world leader in automotive wheel alignment systems. The Hunter WA245 features the latest in wheel alignment technology including the new HawkEye High-Definition Digital Imaging Wheel Alignment Systems. HawkEye High-Definition Imaging Sensors provide fast target acquisition optimized for high-speed alignment performance and feature four high-resolution cameras that provide instantaneous updates. WinAlign alignment software contains the largest vehicle-specific information database in the industry, as well as many patented adjustment, productivity and merchandising features that speed and simplify the alignment process.
The Hunter aligner is truly a work of art providing the customer with the most advanced wheel alignment technology to date.
Road Force Wheel Balancing
Balancing your tires is a cost effective way to promote safety, reduce tire wear and increase fuel efficiency. Every time a wheel is first mounted onto the axle with a new tire, it has to be balanced. The goal is to make sure the weight is even around the axle. Every bump and corner affects balance; so does tire wear. Over time, your tires get out of balance again. That's why it's important to have tires balanced regularly.
Wheel balance is checked on a wheel balancing machine that can sense as little as 1/4 ounce difference in weight around the wheel. That tiny amount of weight is traveling very fast around the axle: hundreds of times a minute. It creates enough momentum to cause serious vibration. The Hunter GSP9720 Wheel Balancer with Road Force Balancing detects non-balance, radial-force-related problems associated with tire uniformity, tire and rim runout, & wheel-to-balancer mounting error. The 9720 duplicates vibration measurement and tire/wheel matching methods previously used only by vehicle manufacturers to provide that "new car ride."