AUTOMOTIVE WINDOW TINT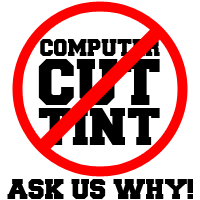 Press Esc to close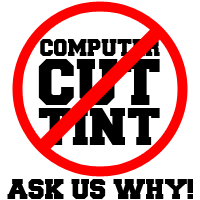 At Advanced Window Tint and RPM Superstore, we hand cut every car we do. Hand cut tint allows for a more exact and seamless install every time!
Computer cut tint is for the tinters benefit, not the customer. Having a computer precut the tint for the installer can have your film ready to be installed quicker, meaning shorter wait times. But, every car window is different, and no two windows on a vehicle are exactly the same. Relying solely on a premade template, the cuts can be off leaving you with unsightly gaps.
Hand cut tint jobs take more time to install, but there will be no gaps guaranteed! Every car we tint leaves with a precise, factory look. That's why we prefer to give you a custom install for your vehicle tinting!
Since 1985, RPM Superstore & Advanced Window Tint Co. has been protecting Richmond, VA's belongings and enhancing the comfort, efficiency, and aesthetics of their automobiles. Advanced Window Tint uses Madico brand window tint. Madico's decades of auto tint experience have allowed us to introduce films we believe to be the finest available, both aesthetically and functionally.
Onyx® and Charcool® tints represent the richest black and truest gray you can find in a car tint, while providing nearly 100% UV protection, eliminating a minimum of 45% and and up 80% of the sun's heat. Madico tints provide a level of comfort no automobile should be without.
If you're looking for a tint that provides disruption-free use of your cell phone, GPS, and radio, our Charcool films were developed to do just that - with the quality you'd expect from Madico. We will apply these films with an attitude of perfection and integrity and take pride in each and every installation. Infact, we GUARANTEE it for life.
Why Tint With Advanced Window Tint Co.?
First Place East Coast Tint Champions, VA's #1 Tint Shop 95, 96, 97, 98, 99, 00, 01, 02, 03, 04, 05, 06, 07, 08, 09, 10, 11, 12
Certified Professional Installation (ask to see our certifications!)
We offer both a lifetime and a nationwide warranty (no questions-asked policy - you look good, we look good)
We install one-piece tint on back windows, not 2 pieces cut on your defroster line to look like one or tintstrips
We are an exclusive Authorized Madico Dealer. Madico has been in business since 1903, over 100 years of excellence. We install the industry's best films guaranteed not to fade, turn purple, peel or bubble
We are a full-time tint company, not a side business
No computer-cut tint, all window tint is professionally hand cut to be a custom fit to your exact vehicle
Free, absolutely no charge drop-off and pick-up service (Richmond and surrounding areas)
Free, absolutely no charge outside detail with every tint job (weather permitting and availability)
Advanced Tint Co. is the only tint shop on the east coast that if you aren't 100% satisfied, we'll refund your money... not one refund in 28 years! (since 1985)
Why Tint?
Pays for itself through energy savings by using less A/C, in turn using less gas (so it's FREE!)
Blocks 99% of harmful UVA rays which causes skin cancer
Protects 99% of interior fading, discoloration, and cracking
Significantly reduces the sun's glare and eye fatigue (don't squint... get tint!)
Eliminate a minimum of 45% and up to 80% of your vehicle's interior heat
Increase safety by making glass shatter resistant (holds glass in place on impact)
Great for babies and pets - makes them feel like they're always under a tree in the shade
Limousine tint adds security and privacy (out of site, out of mind)
Note: Recreational vehicles only - trucks, SUVs, vans, etc.
Theft deterrent as your belongings are obscured from view (the film disallows a quick smash and grab entry)
No longer feel like your in a fish bowl